As we promised totally new, totally fresh, more feature rich than before Atavism 2018.1 is available and ready to get.
This version of Atavism comes with created from scratch Demo Scenes. Main Demo was made by one of our Partner Nature Manufacture which includes: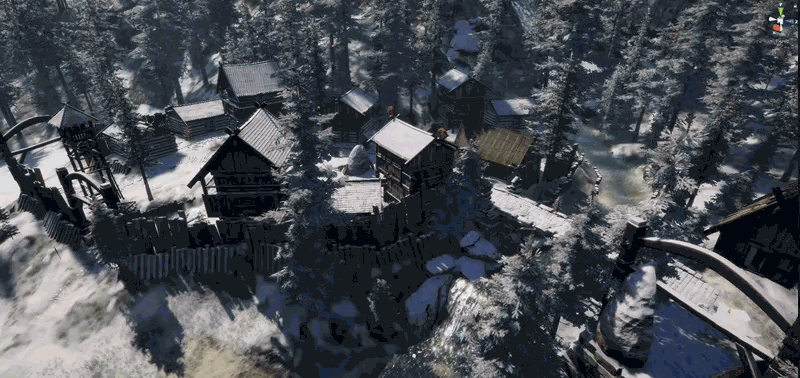 Foliage models by Nature Manufacture
Rocks models by Nature Manufacture
Optimized Unity Blacksmith models including special shader for snow coverage by Nature Manufacture
Snow System by Nature Manufacture
River R.A.M. by Nature Manufacture
CTS by Nature Manufacture and Procedural Worlds
Bomber Bug by Infinity PBR
Enviro Day / Night / Weather system by Hendrik Haupt
UMA outfit by WillB Game Art
Free animations by Explosive
Free icons by Tazo, pbmojART, Rexard, Nazarii Hrytsiuk, Midaem, Dr. Game
Free models and characters from Blacksmith package by Unity
Free postprocessing pack 2 beta 5 by Unity
3 full armors (plate, leather, cloth) by Dragonsan Studios
6 weapons (2 x sword, 2 x bow, 2 x staff) by Dragonsan Studios
GUI by Dragonsan Studios
But there is no such word which can say more than an image, and what do you say about Atavism Live Demo? Yes, Atavism Live Demo package which is a basically small sample of the game hosted on our servers, grab the Atavism Live Demo and see for yourself. The best part is that you will get almost similar assets with our brand new Atavism 2018.1 package, and it's not even the beginning, let's move to the new features which you are getting in this version of Atavism.
Long awaited Pet System which allows you not only to summon Pet but they can be Combat or Non-combat types, you can give commands to combat pet to attack target or follow its master, and define its stance like aggressive, defensive, passive.
Also very highly requested Weather and Time synchronization between server and players. We implemented World API by Procedural Worlds which in turn can be connected to CTS, Enviro or Tenkoku, and other systems. You can define profiles with priority, so you can have snowy or rainy maps where weather profile will be randomly chosen based on your preferences.
Brand new UMA 2.7 integration package which gives you the ability to use that great character customization.
Social plugin to put your friends on the list so you could invite them to the group more easily.
Integration with Postprocessing Stack 2, connected to the options along with sound controls and unity graphics settings.
We changed crafting, mob spawner, UI, added mobs and weapons range of damage instead of one value to give you even more flexibility to configure and adjust these elements.
As usual full release notes can be found on our documentation page.